Dimitrijević & Partners again this year in top Tier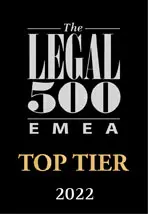 We are pleased to announce  the latest Legal 500 report for 2022.
Our office has been ranked as Tier 1 in categories: Commercial, corporate and M&A and Projects & energy and as Tier 3 in categories: Banking, finance and capital markets and Real estate & construction.
We are are also proud that our partners Stevan Dimitrijević and Davorin Marinković are recognized as leading individulas in Commercial, corporate and M&A practice area.
Our associates Nikola Markočević and Đorđe Dimitrijević are listed within their area of expertise in Projects and energy and Real estate & Construction.
Congratulations!
We would like to thank our clients for their continuous support and to our entire team for their dedicated work.
Sime Šolaje 1, 78000 Banjaluka
Republika Srpska, Bosna i Hercegovina
T | F +387 51 962 600
office@dimitrijevicpartners.com
© 2021 Dimitrijević & Partners. Sva prava zadržana.